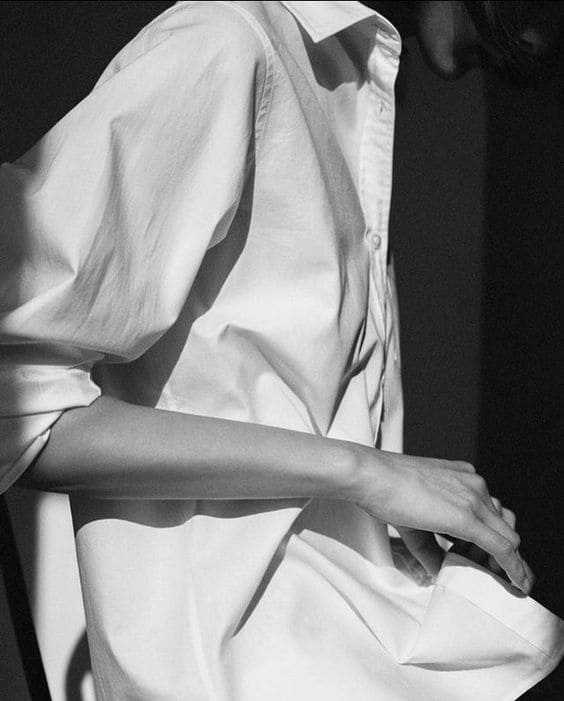 Building the foundations for a well-curated wardrobe requires finesse. It calls for diligence and consideration, combined with utility. The key attributes consist of pieces that are timeless, functional, and versatile. It's important to start from the ground up. Your basics are your foundational prerequisites. These are the underpinnings of a functional wardrobe, and offer the most versatility. Investing in quality will serve you well. Singlets are non-negotiable failsafes, as stand-alone, and laying pieces. These offerings from Totême in white and black are prime examples – well-made and minimal.
Moving on to jeans and trousers. Not much needs articulation here. For many, jeans are king of the closet; hardy and robust, utilitarian, yet elevated, they epitomise high-low dressing. When you think you've seen them all, new, improved versions surface. With jeans, the devil really is in the details. Slight variations in cut and finish make all the difference. Case in point: Agolde's 90s rendition. These sit high, pulling in at the waist, with a straight-leg silhouette. The Dark Gray, and Light Denim are both classic washes. Well-cut, classic, comfortable, and flattering. As is happens, these are the very same qualities to look for in trousers. Enter, The Row. Expect fine tailoring and classic pieces in oversized modern interpretations. These are your timeless and understated investments. The Frankie Shop has a similar aesthetic with classic tailoring in generous proportions, while being more accessible price wise. Monochromatic and neutral varietals will hold you in good stead.
But the real crown jewel for any closet with clout, is the blazer. Few garments can match its versatility and timeless appeal. Current favourites include this classic from Anine Bing. It's made in a wool fabrication with an oversized fit, rendered in a muted Gray-Green. It's a fresh, neutral alternative to beige. From Acne Studios this black double-breasted number strikes a balance between relaxed and structured. Blazer's are a true timeless classic; understated, sophisticated and casual. The cool, calm and collected chameleon that holds true to its roots. Its versatility evident in its ability to shift gear depending on the directive. With relaxed cuts dominating the scene, comfort and class have officially entered into a new relationship. The new uniform: A black blazer over a white t-shirt and dark-gray jeans.
Of utmost importance is quality. Opting for fewer pieces of higher quality, as opposed to more items of less quality, is advisable. With this approach, style becomes effortless, and versatile. It's unnecessary to amass a huge wardrobe. Less is more, are wise words of the discerning. As is prioritising quality over quantity. Investment pieces may take longer to acquire, but they will stand the test of time. A classic bag that's stylish, timeless and functional offers purpose and longevity. 
After all, classic pieces are on-demand staples that form part of a personal uniform. Dressing in this way points to a level of confidence that shows a developed sense of style. It's an asset. And, beyond sartorial organisation, uniform dressing offers peace of mind. Clarity frees up precious mental real estate by fine-tuning the decision making process. The benefit of this is a harmonious trine between style, dressing and time. In one word, satisfaction.
But, diligence and prioritisation are paramount. Investing in key pieces forms a well-curated closet that's stylish and functional. One that will pay future dividends, saving time and money. After all, simplicity is the ultimate sophistication.